My human Steve was reading the Sunday papers yesterday afternoon. I was just dozing off for a well-earned afternoon nap (earlier on I'd cleared the garden of 2 squirrels and that pesky cat from next door) when he exclaimed:
"There's a great story about customer service and taking ownership in the Sunday Telegraph, Maizi! Can you publish it as one of your woof posts?"
I woofed "Yes" and carried on dreaming about implementing a Squirrel Free Zone across the local neighbourhood. I don't know about you but I don't work on Sundays.
The story that had got Steve excited was about Postmaster, David Shepherd, who had a passport that he needed to send to one of his regular customers on signed delivery. He was locking up at the end of the day, and realised he had forgotten to send it. What to do?
Instead of leaving it and blaming others, he got into his car and travelled 550 miles from Cornwall to East Sussex (and back again) to ensure the letter was received the next day!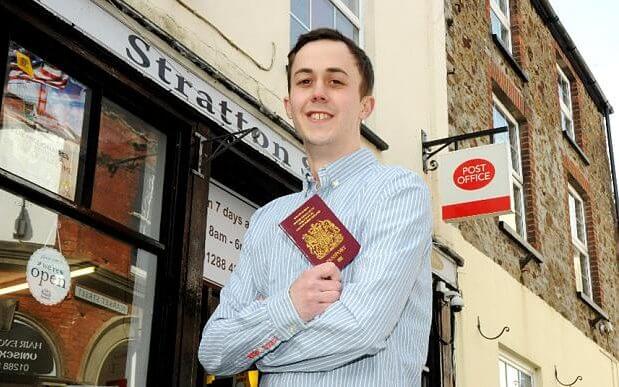 The letter contained the passport of a friend of the sender, who had paid for a guaranteed next-day delivery so that it would be in his hands by 9am. But as David hadn't processed the envelope he had missed the pick-up time.
What would you do in these circumstances? I think many of us would have left it for the following morning. Que sera! Not David Shepherd.
He shut up shop and took a long and complex overnight journey from the village of Stratton in Cornwall to Rye in East Sussex, which involved a car journey, and 4 separate rail and tube journeys (detailed above, in the main image), to ensure he fulfilled the Royal Mail's guarantee.
"We like to provide a really good service. We want to get it right," said Mr Shepherd, who runs Stratton Stores and Post Office.
The passport was needed for an emergency charity meeting in Amsterdam and realising that the intended recipient of the passport would miss his flight, our customer service hero, David Shepherd decided to get it there, come what may…
After various tube and train journeys he walked from Rye station– in driving rain – a quarter mile to the house of Mr Monro's sister, where he delivered the precious envelope and immediately set off back to Cornwall.
The cost of the journey including rail tickets and petrol was £155, compared to the £1.74 Royal Mail charge for its  'Signed For 1st Class' next-working-day delivery service.
Mr Shepherd said: "At the time the cost was irrelevant. I just had to get the parcel to Hugh. He's very nice and we don't like to let people down. It was my mistake.
"What David did was way beyond the line of duty," said Mr Monro, 66, who's passport David Shepherd delivered. "It was extraordinary, truly amazing. It just shows the merits of the village Post Office system."
This is the best example of excellent customer service that I've 'read' about (OK that my human Steve's told me about…) in 2016 and I think it could be difficult to beat.
A big 5 tail wags for David Shepherd at Stratton Stores and Post Office!
Maizi's Tail Wag Rating